Centar za transfer tehnologije d.o.o.
Category Small Business Member Industry: Consulting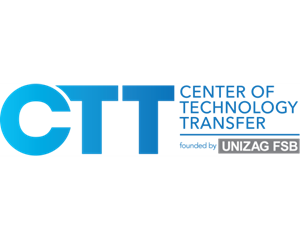 Center of technology transfer llc. is a company founded in 1996 by the Faculty of Mechanical Engineering and Naval Architecture of the University of Zagreb, with the support of the Ministry of Science, and in consultation with the German Fraunhofer Institute.
The strategic purpose of CTT is to connect science and the economy in order to raise competitiveness of the Croatian industry and strengthen the role of FMENA in this process. CTT conducts a series of activities encouraging the development of innovative companies, and guiding students towards entrepreneurship. The main activities of the Center of technology transfer are: seminars, projects, technology transfer, and business incubation. Lately, CTT has been focused in particular on the power plants and renewable energy, and is currently working as a lead partner on the transnational project ZEVinnovation. The aim of the project is to establish a sustainable and efficient network for the development of innovative zero-emission vessels.