Odvjetničko društvo Šooš Maceljski, Mandić, Stanić & Partneri d.o.o.
Category Small Business Member Industry: Legal Services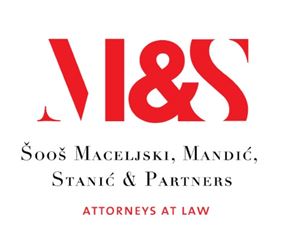 Matić, Šooš Maceljski, Mandić, Stanić & Partners Ltd (M&S Partners) is a law firm situated in Zagreb, the capital and business center of Republic of Croatia. The beginnings of M&S Partners originate in 1987 and today the firm operates as a limited liability company originally incorporated by merger of two law firms Šooš Maceljski & Partners and law firm Matić, Mandić and Stanić, both with long-standing tradition. This merger resulted in the creation of a next generation multi-disciplinary law firm that addresses every need of its clients. As a multi-practice firm, M&S Partners is able to provide legal advice to clients in diverse sectors. The firm's main priority are its clients, whom they aim to serve with the highest standards of legal service. Practice areas: Corporate Law, Banking & Finance, Bankruptcy Law, Debt Collection, Energy, Compensation for damages, Criminal Law, Contracts, Real Estate, Litigation, Employment law, Administrative Law, Intellectual Property, Public procurement.