Divjak, Topić, Bahtijarević & Krka odvjetničko društvo d.o.o.
Category Small Business Member Industry: Legal Services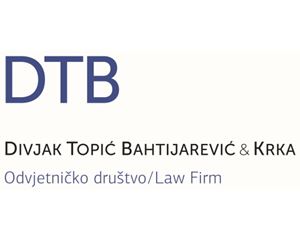 Established in 1994, Divjak Topić Bahtijarević & Krka Law Firm (DTB) is recognized as the premier corporate and commercial service to international and Croatian corporations in the Republic of Croatia.
In everyday business or sophisticated strategic transactions, DTB's clients consider the firm as their reliable problem-solving guides for their investments and business operations. The firm's attorneys are trained and experienced in communicating with state agencies, governmental bodies, and regulators. DTB's clients include some of the biggest domestic and international companies, investors, and financial institutions whereas the transactions and cases they have advised on have helped shape the Croatian legal market. The firm's lawyers are particularly experienced in corporate & commercial, mergers & acquisitions, banking & finance, real estate & project investment, competition & antitrust, employment, IP & TMT law, and dispute resolution. Besides Croatian, DTB's lawyers are sworn court interpreters for/native speakers of English, German, Italian, Russian and Ukrainian.