Wiener osiguranje Vienna Insurance Group d.d.
Category Corporate Member Industry: Financial Services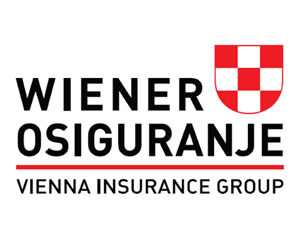 Wiener osiguranje Vienna Insurance Group d.d. is a member of Vienna Insurance Group, the Group's leading insurance company in Central and Eastern Europe.
Besides the "family name" Vienna Insurance Group, connectivity with the Group occurs in common strategic values. Responsible and consistent corporate governance is a prerequisite for safe and stable business, growth and value development for insurers, shareholders, sales partners and employees. Following these principles, the Company has become one of the leading insurers in the Croatian insurance market, combining the tradition of responsible and consistent corporate governance with innovative digitization projects in the spirit of modern times. The quality and success of Wiener Insurance VIG was recognized by the Croatian Chamber of Commerce and the Company was awarded with "Zlatna kuna" for the Best Insurance Company in 2017. Wiener Insurance is the 4th insurer on the Croatian market with a market share of 9,1 percent.